Marilyn's Ongoing Ministry
in the long aftermath of a killing, support for survivors of homicide victims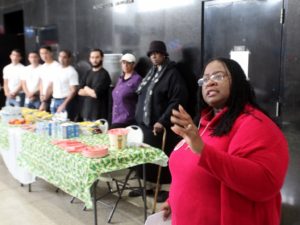 In 2000, Marilyn Washington Harris lost her only son, victim of a killer, victim of a gun, victim of the violence that is such a prominent thread in the fabric of life in Oakland. Khadafy was killed in early August, on the campus of the West Oakland high school he had only just graduated from.
For Marilyn, Khadafy's death marked the end of one life and the beginning of another. In the years since, she established a foundation in his name, and she has become loving mother to a generation of Oakland families who have lost a loved one to the city's violence. Indeed, she was named Oakland's Mother of the Year in 2015.
In those pitch dark days after her own son's death, there had been no one to guide her through the particular kind of jagged grief a violent death brings. In the midst of a strangely painful emptiness, survivors of homicide victims find that there is business to take care of, there are sudden expenses and expectations that yesterday were unimaginable. For some, there is financial compensation available from the county Victim of Crime office, but there is a time-consuming process to obtaining that compensation, appointments to make, forms to fill out, time passes while the body waits.
Marilyn became an expert in guiding lost families through that process quickly, through the funeral planning process, through the first days and weeks of what will be a lifetime of adjustment, of wondering, of guilt, of what-ifs, of terrible missing. Read these interviews from some of the families she helped.
In 2011, Marilyn took her ministry of service to Oakland's venerable violence prevention organization called Youth Alive. At Youth Alive she continued to serve families, until her retirement in 2014. Today, Youth Alive continues her selfless work through the Khadafy Washington Project, named for Marilyn's lost son. Dedicated crisis responders with the project continue to step in to the immediate aftermath of each killing in Oakland to guide families through those impossible early days.
But even Youth Alive doesn't have the staffing to stay with these families for more than a few months. And yet, as anyone knows who has lost a loved one, whether through illness or accident or violence, the pain and grief remain, they have a terrible, lasting power. Add to that the raw emotions repeatedly stirred by investigations, by trials, or by the knowledge that the person who killed your son, your husband, your daughter, is out there somewhere free. (No one was ever arrested for the killing of Khadafy.)
It's complicated, unpredictable, painful and not to be faced alone, but instead, with someone who understands. That is Marilyn's ministry now. The aftermath, the long aftermath. Through regular gatherings with survivors, through support groups, through charitable events, as a liaison between the Oakland Police Department and victims' survivors, as a living symbol that you can find the strength to continue. Marilyn regularly brings families together with OPD detectives to discuss the investigative process, so that they can ask questions, so that they can feel that their case has life. She regularly brings together a mix of long-times survivors and those newly grieved, to share the pain but also the wisdom they have gained.
For the past three years, the number of homicides in Oakland has gone down. But think about this: There were 78 homicides in Oakland in 2017. Over six homicides a month. Most of those killed were young men of color. They are gone now, but each killing also represents the baptism by fire of a new family, of mothers, fathers, children, friends, classmates. Each with his or her own pain and path to navigate. Miss Marilyn will be at their side all the way.