3rd Annual My Baby Matters Too Toy & Coat Giveaway – December 2018
Sponsored by the Khadafy Washington Foundation, Oakland Police Department and Oakland Councilmember Lynette McElhaney
For Oakland families who have suffered the terrible loss of a loved one to the gun, this was a happy day, a fun gathering full of laughter and gift giving. We thank all of our friends who contributed to this great day in December! Here are some wonderful pictures of the day, courtesy of Gene Hazzard. (More pictures from the day on our Gallery page.)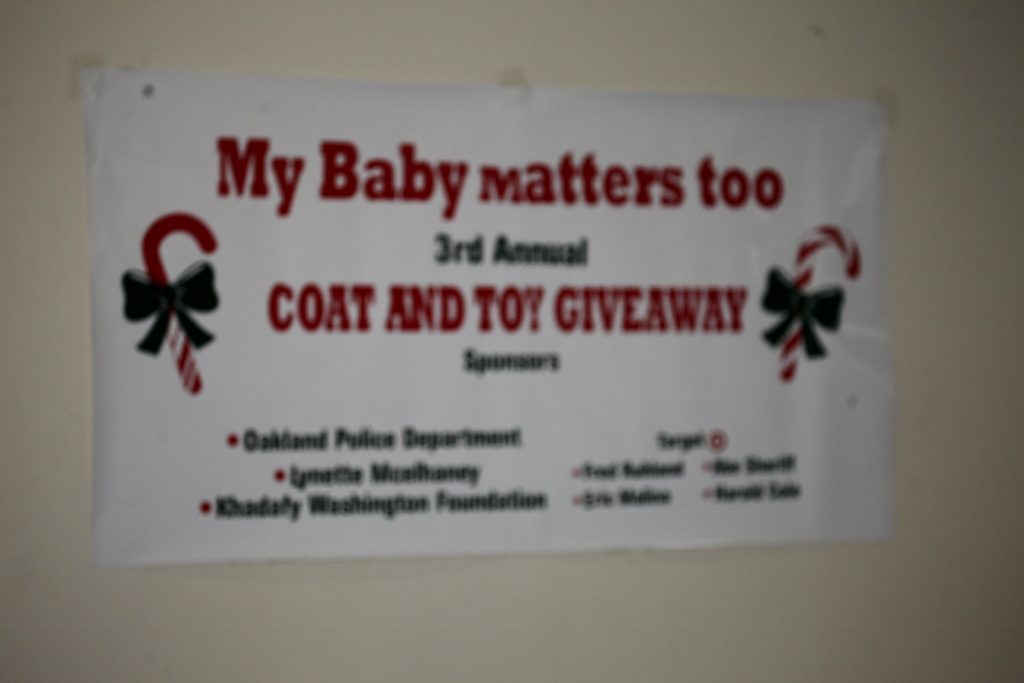 ______________________________________
The Aftermath
In the long aftermath of a killing, support for Families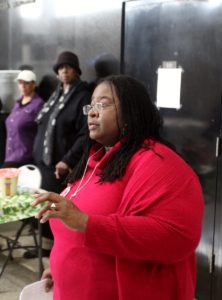 In 2000, Marilyn Washington Harris lost her only son, victim of a killer, victim of a gun, victim of the violence that is such a prominent thread in the fabric of life in Oakland. Khadafy was killed in early August, on the campus of the West Oakland high school he had only just graduated from. For Marilyn, Khadafy's death marked the end of one life and the beginning of another. In the years since, she established this foundation in his name, and she has become loving mother to a generation of Oakland families who have lost a loved one to the city's violence. Indeed, she was named Oakland's Mother of the Year in 2016. Read interviews with those she's helped here.
Today, through regular gatherings with survivors, through support groups, through charitable events, as a liaison between the Oakland Police Department and victims' survivors, Marilyn is a living symbol that you can find the strength to continue. She regularly brings families together with OPD detectives to discuss the investigative process, so that they can ask questions, so that they can feel that their case has life. She brings together a mix of long-times survivors and those newly grieved, to share the pain but also the wisdom they have gained. Each survivor has her or his own pain and path to navigate. Miss Marilyn will be at their side all the way.
____________________________________
Anniversary of an End and a Beginning in Oakland
Each August marks the anniversary of the shooting death of Khadafy Washington on the campus of McClymonds High School in West Oakland. Khadafy was 18. He had graduated just two months earlier. He was riding his bike that night. He died quickly, but his family's pain and struggle were only just beginning. 
Today, Khadafy's mom, Marilyn Washington Harris, and the Khadafy Washington Foundation for Non-Violence continue to support thousands of survivors of the well-over 1500 people killed in Oakland since that fateful night in 2000. 
Miss Marilyn started in the months after Khadafy's killing by conceiving billboards, which were distributed, 19 of them, about the city, with Khadafy's picture and the blaring question: Do You Know Who Killed Me? They were a stark reminder to a city sometimes in denial that too many of its young men were dying violent deaths. 
Soon she was organizing marches to bring attention to Oakland's problem with violence, and to the lasting pain families of victims endure. Privately, she would reach out to individual families in the immediate aftermath of a homicide, sending them mementos and reminders that they were not forgotten.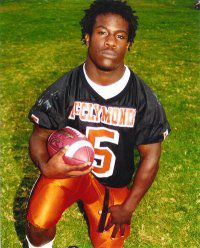 Then she began seeking them out personally, at their homes, the hospital, even at crime scenes, taking them by the hand to guide them through the craziness that descends on a family in the days and weeks after a loved-one's sudden, violent death. In their weakest moments, she protected them from exploitation, scraped up funds for the mostly poor families so that they could bury their dead with dignity and grace, and continued to counsel and care for them as they tried to get back to life. Today, as the violence persists, Khadafy's mom is Oakland's primary crisis responder, touching the lives of thousands of suffering Oaklanders. 
Through the life and growth of the foundation named in his memory, we like to think that Khadafy still lives and grows, and that it's his spirit reaching out to the survivors of Oakland's killed, those living victims of homicide, that it is Khadafy's spirit helping them begin the long process of healing, of finding some kind of peace and love in their lives and their city. 
Read more about the work of Marylin Washington Harris and the Khadafy Foundation for Non-Violence in San Francisco Magazine, "No Escape, No Surrender", and at Ice City Almanac "She's gonna help you get through it." To contribute to Marilyn's work, please see our Donate page.